Mobile Solutions to Bridge the Gap
Mobile and Temporary Water and Wastewater Systems
Whether you have a planned maintenance event, a unique treatment need, or even a particularly challenging location, WesTech has a full line of mobile equipment for rent.
For temporary water treatment, regulatory compliance, and even testing, we can optimize a mobile system to meet the unique demands of your site. Our containerized and skid-mounted units are modular and can be combined for systems that address larger flows and multi-stage treatment. Flexible contract time frames can be as brief as one month or as long as a year or more.
Support for Your Mobile Wastewater Demands
Temporary equipment provides a safety net from potential disruptions, especially for operations such as power plants, mine water, and refineries. When the unexpected happens at a plant – an equipment failure or a developing water shortage – mobile wastewater treatment systems provide a quick-response solution. Whether interruptions occur from emergency repairs or scheduled maintenance, they can cause the plant to lose revenue or fail to meet discharge regulations.
With mobile units, treatment requires a smaller commitment of resources and provides easier installation, fewer operating costs, a reduced environmental footprint, and an opportunity to test trial solutions before investing in full-scale installations. The systems can also include electrical, piping, asset management, and installation, based on process flow.
A temporary system can meet the transitional need for a fill-in treatment system when you are waiting to replace your aging plant with a newer one. Combined with an operations contract, a mobile and temporary system can provide a complete, turnkey package.
Download the mobile and temporary systems brochure
Applications
Ash pond dewatering and closure
Landfill leachate
Groundwater treatment
Mine water treatment
Heavy metals removal
Wastewater treatment
Superior Service
In addition to a broad range of temporary equipment, we offer the expertise and process knowledge that comes from nearly 50 years of water and wastewater treatment experience. This experience, paired with our passion for problem-solving, means we're uniquely qualified to develop a solution that meets your specific needs. Our plan is to work closely with you through the design process and be on site as needed during the project.
Our dedication to service means we'll do what it takes to exceed customer expectations, whether it's seamless equipment installation or superior operations.
We're committed to providing quality equipment, timely solutions, and trouble-free operations for your mobile and temporary equipment needs. Our mobile units meet the strict safety requirements we place as a top priority within our company.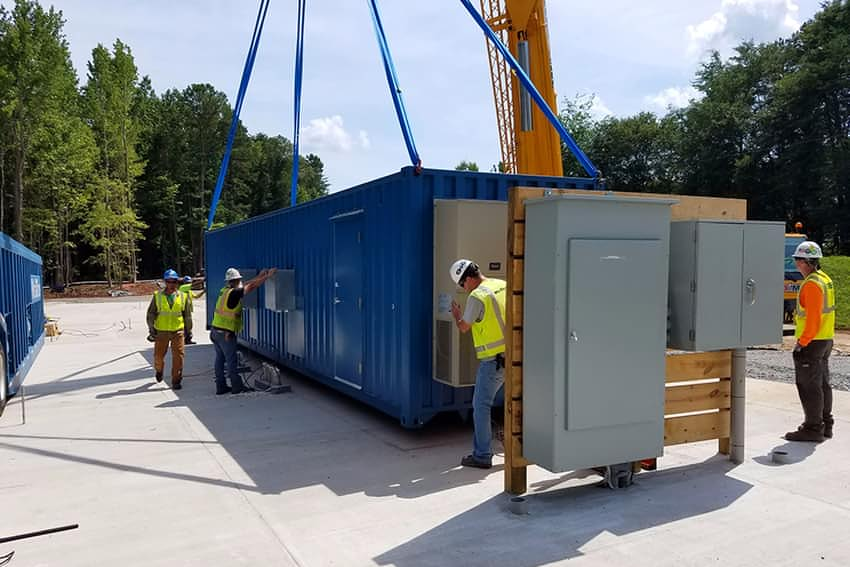 Featured Equipment
Horizontal Pressure Filter
Our multimedia pressure filter efficiently removes heavy metals and turbidity. The filter includes multiple cells that allow for a self-generating backwash system that uses source water. This eliminates the need for a separate filtered water tank.
RapiSand™ Ballasted Flocculation
WesTech's RapiSand™ ballasted flocculation system is a high-rate clarification process that removes suspended solids by combining rapid mixing and multi-stage flocculation, followed by sedimentation. This trailered system includes hydrocyclones to provide separation of coagulated solids and microsand to recycle through the system.
SuperDisc™ Disc Filter
The SuperDisc™ disc filter provides a large amount of filtration area in a small footprint. Each disc houses a polyester mesh that is used for liquid/solids separation. Our containerized SuperDisc is a low energy system with automatic backwash.
Dissolved Air Flotation (DAF)
WesTech's mobile DAF is designed around the industry standard mobile frac tank with all main components pre-mounted. An air induction pump is used to float solids before they are collected, and a chain-and-flight system removes the floating solids off the top of the water.
Containerized UF
Our containerized ultrafiltration units are designed with the same efficient and reliable low-pressure filtration that our regular installations provide. The containers protect and secure the membranes, making them easier to transport and install.
Also Available
Clarifier
Available in a variety of sizes, our mobile clarifiers provide liquid/solids separation and turbidity removal for primary and secondary clarification.
Aeration Tank
Our mobile aeration tank incorporates a premium aeration design, modular setup, and easy operation. The diffusion header has multiple diffusion attachments that can be adjusted for different air requirements.
Benefits
Setup support
Smaller footprint
Quick turnaround
Reduced downtime
Flexible contract time
Installation and operations expertise
No capital expense
Get the Latest Industry and WesTech News